Your safety is our passion
The safety in your company is most important: This includes the analog and the digital safety. Both safety dimensions are closely interlocked. Because those items that provide safety in the physical world must be digitally controllable in your safety systems. In addition, safety must be able to grow. We ensure this flexibility of your safety architecture, in the analog as well as in the digital world.
Theft, espionage or vandalism – we want to protect us against these not only in our private sphere. Only authorized persons should have access to restricted areas in companies. The selection of means for identification includes identity cards up to the recording of biometric features. They are recorded through a reading unit and then transferred to the access control unit, which in turn is in contact with a control center. This is where all rules are stored that open all required doors within a certain time window for an authorized person. The equipment condition monitoring of doors through contact is also covered by access control systems. A combination with alarming and time recording systems is possible. We adapt these systems to the individual requirements of our customers to guarantee the best possible protection!
Mechanical and digital locking systems
Independent of how you want to lock your gates and doors: We deliver the concept and the required technology for your individual locking system as well as its monitoring and documentation.
Rescue route systems
The human integrity in a hazard case is more important than anything else. A safe use of escape and rescue routes is guaranteed by the furnishing with high quality, mechanical or automatic components.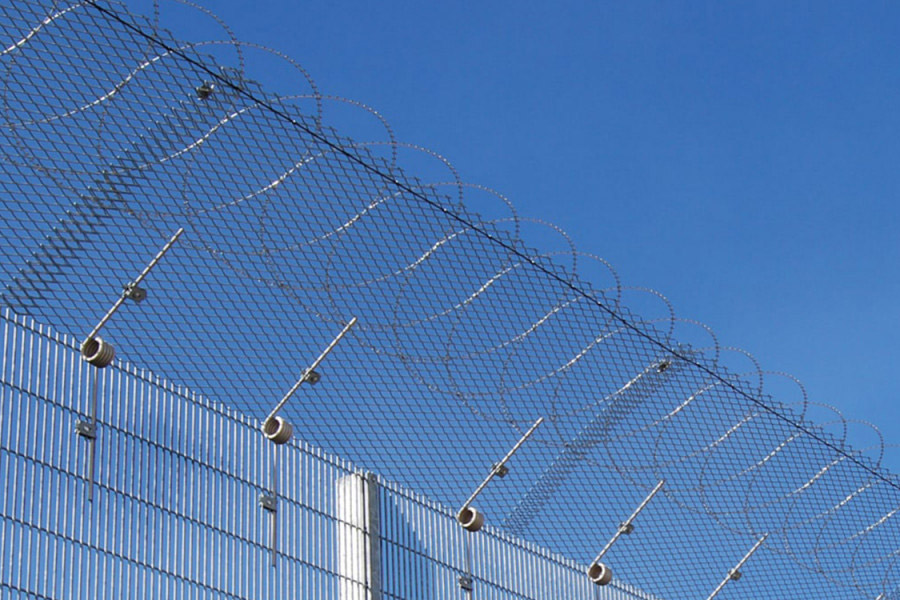 Perimeter and fence monitoring systems
Safety starts at the property boundary. The protection of fence systems is the first safety concept step especially for large factory properties. Systems equipped with different devices are available to protect your property against unnoticed intrusions.
Person and vehicle control
Automated person and vehicle controls are expansions of access control systems. These systems have no limits due to suitable reading units and their integration into the system.
Process & blocking systems
Safety technology is often understood as protection against external impacts. Automatic barriers and immersible bollards are examples. However, the focus is also on internal safety of humans and machines. For example, we address the protection of machine operators through meaningful process systems and automatic blocking of hazardous areas. This also protects your production against manipulation and maloperation. In this case, we operate as individually as your requirements demand.
Programming of room control systems
From the media systems to the HVAC systems up to the light: The operation of all components must be comfortable, however, it must only be controlled by authorized persons. We are pleased to assume the planning and implementation of room control systems with the required safety system aspects!
HealthyScan: Bachner revolutionizes the Covid certificate check
HealthyScan includes two well-thought-out check-in solutions made by Bachner: Whether stationary as a terminal or mobile by using a tablet – public spaces, offices or restaurants need less personnel for entrance control.
The benefit: If required, the well-thought-out HealthyScan check station works completely without personnel – this saves costs and it provides an environment where the employees and the guests feel that the control is less intrusive. The three solutions HealthyScan Terminal, HealthyScan Flex and the HealthyScan App adapt to any scenario, and they can be easily integrated in any existing system.
Video solutions and camera applications
Camera applications are mandatory in many areas in addition to the existing safety or access control systems. We offer everything: From traditional monitoring cameras through badge identification up to motion tracking of persons or objects.